1/31/16
On December 26'Th, 2015, as I was driving back to school early to resume the basketball season, I was listening to one of my favorite podcasts, Hidden Brain. Hidden Brain is a social science podcast put out by National Public Radio (NPR).
That week's episode was focused on Christmas and the heightened giving during the holiday season. I recently re-listened to this podcast and remembered how convicted I was the first time I listened to it.
Why do we give? Do we give because we want to, or because we feel like we should? Is it a chore or is it a joy?
I want to focus on altruism, which is different than just giving. Altruism, according to Merriam-Webster.com, is "feelings and behavior that show a desire to help other people and a lack of selfishness." Almost everyone gives, but this podcast, and some thoughts I've had for myself show that giving and altruism are rarely the same thing.
Dr. John List, a professor of economics at the University of Chicago, has done many experiments on giving. During one of the interviews with the professor during the show he said, "People say, 'I give because I want to help another person,' but when you dig down deeper, that's not the true motive to why they gave."
The show talks about two kinds of giving, the life-affirming and the guilt trip philanthropy. This is the major difference between altruism, and giving into social pressure to give.
Dr. John List gave this example.
Imagine yourself on a peaceful Sunday afternoon at home. You are watching football or reading a book with your family. All of a sudden, you hear your doorbell ring. You get up and go to the door and it is a charity solicitor. Dr. List says, "Once you see it is a solicitor at the door you think, 'oh my God, I wish I would have stayed on the couch watching the football game.'" Because of this scenario, Dr. List ran a very compelling experiment in Chicago. The first group was certain houses that just had solicitors show up with no warning. The second group was told ahead of time that someone was going to be stopping by and asking for money. The third group was told that someone was coming, but was given the choice to opt out of giving. Dr. List found that the second group answered the door ¾ as many of times as the first group and the third group gave almost half of the first group.
If generosity were based on altruism and not social pressure, all of these groups should have given the same amount.
I can understand this, but instead of Sunday on the couch, it is Sunday in the church pew. Christians should be the people that give altruistically the most right? The Bible is filled with verses about giving. Here are three examples:
Proverbs 21:26, "He covets greedily all the day long: but the righteous gives and spares not."
Luke 3:11, "He answers and said to them, He that has two coats, let him impart to him that has none; and he that has meat, let him do likewise."
Acts 20:35, "I have showed you all things, how that so laboring you ought to support the weak and to remember the words of the Lord Jesus, how he said, It is more blessed to give than to receive."
I can probably (guiltily) count on one hand how many times I have pulled the ten-dollar bill out of my wallet and put it in the offering plate instead of the single that I usually put in. I can count on even fewer fingers a number of times I have given out of authenticity instead of the pressure of family or friends next to me.
I think I have every excuse in the book to not give.
"I'm a "poor" college kid"
"I plan on giving a lot when I'm older"
"I want to give, but just can't right now"
Those excuses, and the many more I have are lame.
One thing that has been on my heart a lot recently is that the Lord wants excellence. The Christian rapper Propaganda in his song titled "Excellent" sings, "Excellent, that's what You should expect from us, that's the least we can do to say thank you for how He blessed us."
Our first fruits are not only expected in giving, but in all that we do. God expects our best and we should give him our best in all we do.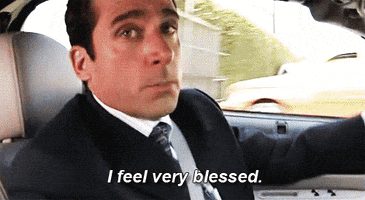 I am incredibly blessed. Even in just the worldly things the Lord has given me, I should thank Him every single second of every day, let alone the fact he has shown me grace for all the times I have failed Him. I live in one of the wealthiest countries in the world. I have two parents and four brothers who love me. I'm working my dream job that I would have never imagined working at the age of 21. I go to a great school with professors who want to see me succeed. I have been giving a tiny bit of musical gifts. All of these things are in my life, but I let apathy take over and give the bare-minimum more than the best more times than not.
I have been incredibly guilty of this my whole life.
I'd rather read half the pages in an assignment and use that to answer the questions for an assignment. I want to find the quick fix and not the right fix. I want to get all the answers written down and not learn from them.
Killing apathy and striving for excellence is something I want to strive to do more because it is something I have not done for so long. The Lord has blessed me with so much and expects a lot more from me than I give him.
In giving, work, love and so much more I am going to do my best, not because of social pressures, but because it is what God calls me, and everyone else, to do. I want to get rid of my apathy and find more joy in work and giving because life is so much more than a net worth and social status.
"Take this apathy and bury it before it buries me" – Cold is the Night by the Oh Hellos